Startup Culture vs. Corporate Culture: Key Features & Fundamental Differences

By

Andrew Moran

Reviewed by

Nevena Radulović
Published November 24, 2022.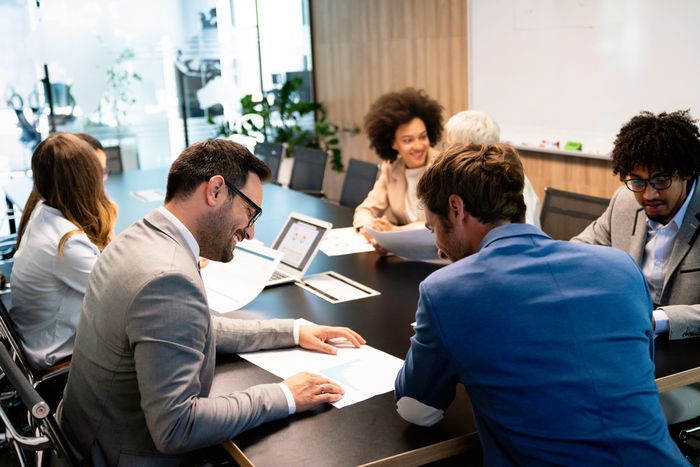 Startups and corporations generally have different types of cultures—typically, the former is more exciting and unique, while the latter is more stoic and rigid. But before comparing the workplace culture of the two types of businesses, it's crucial to understand the difference between a startup and a corporation. A startup refers to a business in the early stages of development that's generally viewed as a young and innovative enterprise, while a corporation is more established and will function at a methodic and slow-moving pace, with an emphasis on productivity. In this article, we'll see what the fundamental differences between the two are.
» How important is workplace culture? Learn why it matters and how to improve it
What Is Startup Culture?
Startup culture is vastly different from corporate culture. Be it in the middle of Silicon Valley or in Hong Kong, startups focus on various ways to achieve growth, whether through problem-solving or facilitating open communication among all personnel. A smaller business that just opened its doors will thrive on working around the clock and exploiting any investment opportunities that come its way.
5 Key Features of Startup Culture
Here are five key features of a startup culture:
Purpose

: The new generation desires a sense of purpose when joining a firm, and smaller outfits certainly make you a critical aspect of the team.

Adaptability

: In today's hyper-globalized economy, it's essential to adapt to anything that changes on the fly. By acclimating to your surroundings, you foster a more creative and innovative climate.

Innovation

: Startups aren't trying to reinvent the wheel but to use innovation to solve common problems or find a different way of using a product or service.

Values

: Do startups already maintain a set of values, or are they developing as the company grows? Whatever the case, startup cultures survive and thrive by depending on the core principles of a firm.

Excitement

: A startup's workplace is about excitement, fun, and problem-solving. Everyone is working toward a common goal, and they want to be there, as opposed to just waiting to collect a paycheck.
Pros and Cons of Startup Culture
Here's a look at some of the pros and cons of startup culture:
Pros
Employees can learn and grow during their time at a startup.

Depending on the startup, employees can enjoy a broad array of perks and benefits and a strong workplace culture.

Workers might be offered stock options as part of their compensation package.
Cons
As it could fold at any moment, a startup can be a risky endeavor for employees, so there's a lack of job security.

It's common for startups to require long hours at the office to help grow the business.

A young and small firm will ultimately offer low salaries because it's still growing.
What Is Corporate Culture?
Corporate culture may be best defined in the cult classic "Office Space," as a group of employees stuck behind a computer in their cubicles filling out TPS reports. Many experts view corporate culture as being about hierarchy and stagnation rather than growth and innovation.
4 Key Features of Corporate Culture
Here are four key features of corporate culture:
Development

: Companies that wish to retain the best and brightest employees will offer better professional and training development.

Advancement

: From lead supervisor to vice president, corporations extend advancement opportunities to the best employees as a form of recognition to ensure the smartest folks will lead the organization.

Formality

: Corporate environment is seen as more formal, as everybody follows a pre-defined set of rules in terms of start and end times, attire, breaks, behaviors, and other outlined corporate principles.

Responsibility

: A corporation will delegate assignments and tasks and ensure employees only concentrate on what is presented to them. Essentially, this means everyone must stay in their lane.
Pros and Cons of Corporate Culture
Here are the pros and cons of corporate culture:
Pros
Paycheck

: You can be confident that the large company will be around tomorrow, meaning that you can enjoy a steady paycheck.

Hours

: The office only operates at certain times of the day, so your schedule is already established, giving you plenty of time to do stuff outside of working hours.

Certainty

: A corporate culture thrives on certainty. In other words, everything will be the same tomorrow as it was yesterday, from the workforce to

values

.
Cons
Innovation

: It can be challenging to innovate in a corporate environment, whether due to the sheer size of employees or the potentially stoic atmosphere at the office.

Communication

: The corporate culture has a communication problem because of the multiple managers, supervisors, departments, and procedures. It can be hard to get in touch with everyone for a final decision.

Indifference

: Studies show corporate employees often feel as if they're a cog on a wheel without offering anything significant or becoming part of anything unique. This can create an aura of apathy, resulting in a wide array of consequences on productivity or work quality.
3 Fundamental Differences Between Startup and Corporate Culture
The dichotomy between startup and corporate culture is enormous, as both types of office environments maintain their own sets of advantages and disadvantages. Here are three fundamental differences between the two:


Internal controls

will vary between startups and corporations. In some instances, a startup culture won't have any internal controls, which could lead to chaos should anything go south.

As previously mentioned, there will most likely be considerable gaps in

employee compensation and benefits

between these climates. A corporate culture will start with higher pay, while a startup culture might one day offer higher pay.

It is much easier for startups to correctly classify employees compared to corporations, as they deal with considerably fewer employees. When the gap in payroll numbers is this enormous, it could result in

employee misclassification

.
» Are you properly compensating employees? See some tips for managing workers' compensation
Know Your Company Culture
Both startup and corporate culture have their advantages and disadvantages—it's all about perspective, the company, and what's being sold to customers. The makeup of the team also matters, so when you manage your global workforce, you need to understand your employees and determine if they like a fast-paced environment or a calm and steady one.
» Both startups and corporations need streamlined payroll. Read TBR's payroll software reviews and find one that best aligns with your business needs.